Ohio Hockey: Bobcats Lose Home Opener, Continue to Search for First Win of Season
< < Back to
ATHENS, Ohio (WOUB) – The Ohio Bobcats hockey team looked to bring home victory number one on the year as they played in their home opener at Bird Arena against the Liberty Flames on Monday night, but a hard-fought effort left them just short when the final horn sounded as Liberty hung on to win 4-2.
After getting outscored by Lindenwood last week 10-5 over the course of two games, the Bobcats came out with a defensive mindset in the first period, holding Liberty scoreless thanks to freshman Max Karlenzig stopping all 11 first period shots. Karlenzig had a very impressive night in between the pipes, stopping 28 of the 31 shots he faced.
"Max (Karlzenig) is huge. He's worked his tail off since he's gotten here. He has put in three solid games so far this season," Head Coach Cole Bell said.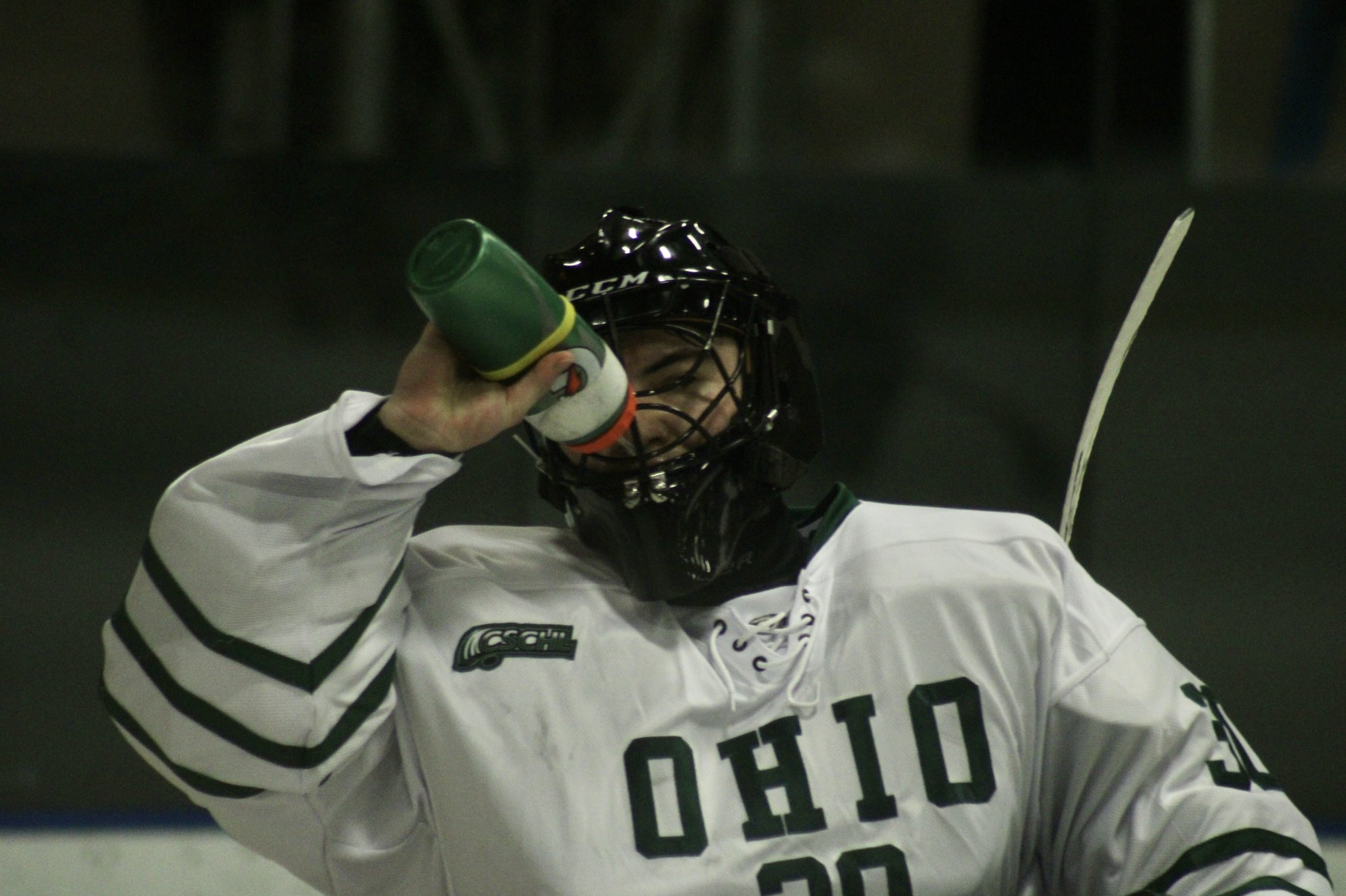 Two of the three goals Karlzenig conceded came early in the second period as Liberty's Brock Thompson and Cole Gammer gave the Flames a two-goal lead seven minutes into the second period.
Ohio responded well, didn't panic, and cut their deficit to 2-1 before the second intermission thanks to an Aiden Grieco goal. He was left alone in front of the net and Zach Curry did an excellent job finding the open guy cutting to the net.
The Bobcats weren't done yet though. They would get the equalizer 2:50 into the third period as Alex Singley found the puck on his stick amid a scramble in front of the Liberty goal and buried it to tie the game at two.
Liberty would answer 1:30 later when Colin Baird scored a nifty back hander over the glove of Karlzenig to give Liberty a 3-2 lead with 15:40 remaining. From there, the Flames tightened up defensively and held off a late Ohio rally which ultimately was shut down when Ryan Cox scored off a draw into an empty Ohio net with 22 seconds left in the game.
Liberty may have won the game, but Ohio still made some progress and showed a lot of progress in the right direction. Karlenzig didn't look like a freshman in goal on Monday night. He made countless highlight-reel caliber saves and kept Ohio in the game. His defense in front of him did a solid job of eliminating second-chance opportunities and putting aside any rebounds.
"I think we're getting better. We're definitely sharper and more on top of things. (We showed) more poise with the puck than these last few games," Bell said, "I'm really proud of the way they battled back. It shows you the kind of heart and character we have on this team."
After getting outshot 17-8 in the second period, Ohio outshot Liberty 12-3 in the final frame, evening the final shot totals between both sides at 31. This is considerable progress in the. Right direction after Ohio conceded 39 and 46 shots in games against Lindenwood.
The message in the locker room was that we took a step forward. We were better than last week," Kyle Craddick, the captain of the team, said, "Hopefully we will keep moving forward and get that first win."
With the win, Liberty moves to 3-3-0 on the year while Ohio falls to 0-3-0 on the year. The search for win number one will come as Ohio and Liberty will conclude their series Tuesday evening at 5 p.m.